Makespace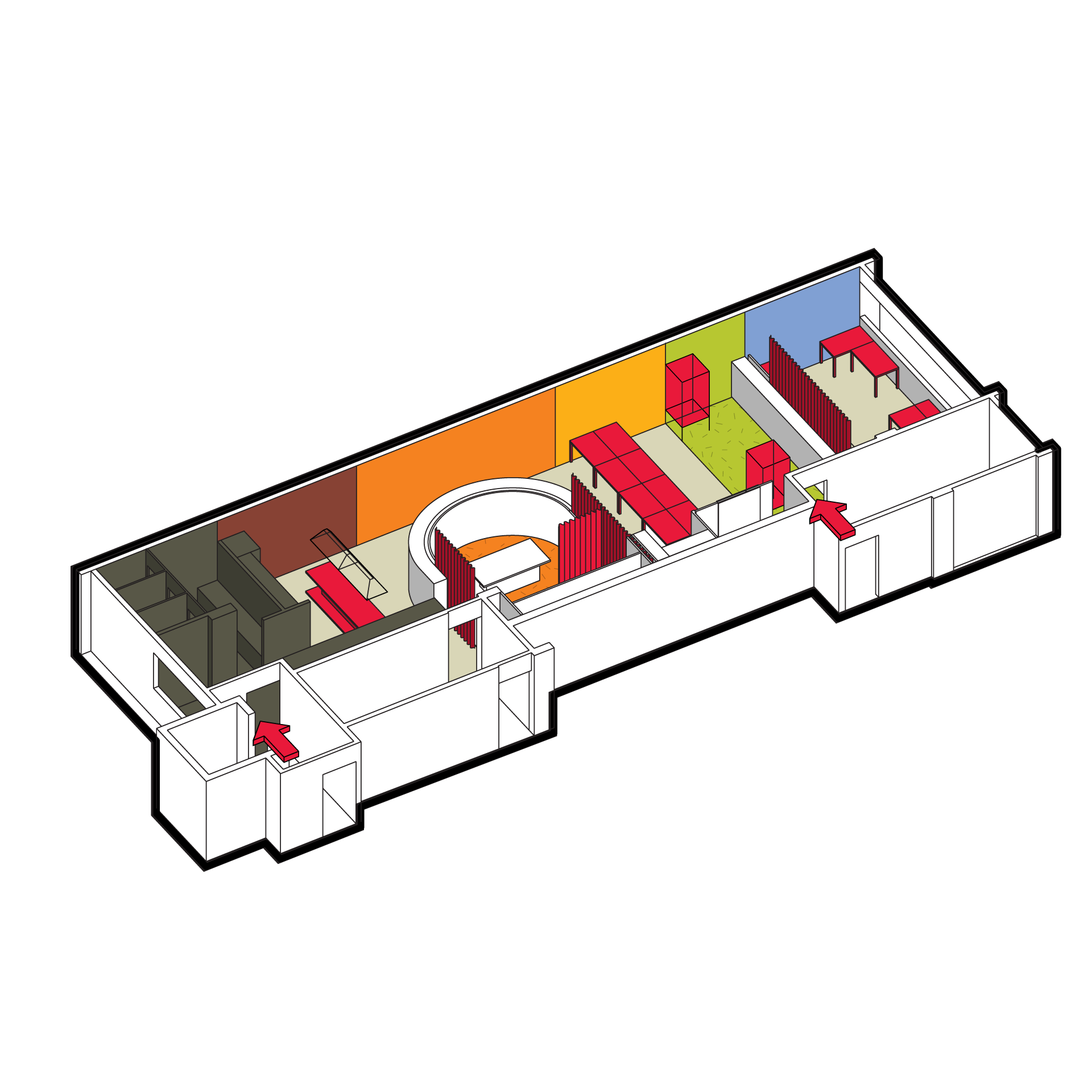 | | |
| --- | --- |
| Client | Makespace |
| Program | Interior Refurbishment (Office) |
| Area | 131 m² |
| Status | Completed |
| Photography | Jeremy San |
| Year of Completion | 2012 |
Co-working office draws inspiration from the neighbourhood, cumulating in a hodgepodge of forms on a colourful strip.
Makespace co-working office resides in a brutalist slab block in Lavender, an old neighbourhood of small-scale manufacturing and fabrication trades.
The design process to this creative office space opted to be in state of constant flux by establishing relationships to the context and actively seeking participatory input from the various users. An array of trades such as the fabrication of PVC tarpaulin sheeting, metal hardware, garages, hardware shops populate the neighbourhood, bringing an industrial vibe to the vicinity. The whole neighbourhood became the material board. By utilising materials and trades in close proximity, we sought to minimise the carbon footprint of the project. Articles such as retro light fitting and chairs from the previous music studio were given a new lease of life. In addition, some areas were deliberately left under-designed and open ended to permit future personalization. Branding, business spatial conceptualisation and customised worktops completed the package.
The space was sub-divided into 6 zones along a colorful strip. While each zone provided a specific work environment, the linear space was essentially an open plan with the absence of enclosed working spaces. 5 working environments each with a different atmosphere were strategically laid out in a parallel fashion;
Break – Working on a concrete I-beam table top next to the pantry for compulsive snackers; this also doubles as the communal hang-out place to share ideas over food. The original brick wall was exposed to reveal the structure of the building.
The U – Main meeting and event space that has the flexibility of being enclosed with a pull of semi-transparent PVC curtains. The half-height partition also accommodates bar counter seats for those in for a few hours of laptop work.
B2B – Back to back worktops for close communication within small groups.
Storm – A calm environment was established with softer furnishings and movable discussion follies to counteract the intense discussions and brainstorms that could potential take place.
Seriously – For serious work only; whole area could be partitioned off for a quieter environment or privacy.
The last zone which is the Wet zone facilitates vertical bicycle racks, recycling bins, individual lockers, and toilet / shower facilities. Storage and filing facilities are distributed throughout the linear space.
Makespace is a singular space with various office atmospheres to accommodate different personalities, diverse disciplines and multi working styles. The apt mix of textures, materials, and work zones would eventually evolve to its unique schizophrenic identity and aesthetics.